Monseñor Romero Coalition

Press Release
"MONSEÑOR ROMERO: TRUTH, JUSTICE AND HOPE"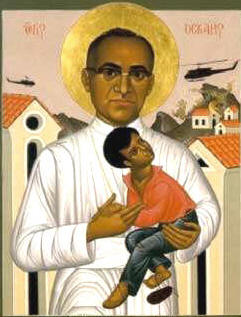 The Monseñor Romero Coalition, of which the SHARE Foundation is a member, wishes to inform the Salvadoran civil society and the international community of the launching of a citizens campaign entitled "MONSEÑOR ROMERO: TRUTH, JUSTICE AND HOPE."
In the context of the thirtieth anniversary of the martyrdom of Monseñor Romero in March of 2010, this campaign wishes to enhance the figure of Monseñor Romero as a world symbol for commitment to the poor, through the struggle for truth and justice that reclaims human rights for the oppressed and victims of violence.


The focus of the campaign will be to demand the completion of the recommendation given in 2000 by the Interamerican Commission for Human Rights (CIDH) in regards to the case of Monseñor Romero. These recommendations have yet to be fulfilled by the government of El Salvador.


The opening activities will commence on August 15, 2009, in Ciudad Barrios located in the department of San Miguel, the birthplace of Monseñor Romero. There will be a mass, a public forum and a procession starting at 10:00 a.m., all of which will be coordinated with the Parish of Ciudad Barrios.


The campaign will consist of public activities, press conferences, community meetings and other activities focused on the prophetic message of Monseñor Romero. It will also consist of the public demand that the state authorities fulfill the recommendation given by the CIDH. All activities will occur starting with the launching of this campaign and culminating in the commemoration event on March 24, 2010.


The Monseñor Romero Coalition will publicize all activities that occur as well as an action taken by state authorities in regards to the requirements presented to them.

The recommendations of the CIDH for the Romero case that have by unfulfilled by the Salvadoran state, in regards to those declared responsible for the assassination are the following:
Carry out a complete judicial investigation that is effective, impartial and with few obstacles, with the means of identifying, bringing to court and penalizing all the intellectual and material authors for the crime established in the above stated report without damaging the decreed amnesty;
Compensate for the consequences of these violations, including the payment of just reparation;
Adapt internal legislation to the American Convention without affecting the General Amnesty Law.
Monseñor Romero is a light of truth, justice and hope for the entire world, but especially for his loved people of El Salvador.


San Salvador , August 13, 2009